Austin, Texas, named best place to live in America
By Roberto Villalpando - Austin American-Statesman
---
AUSTIN —
U.S. News and World Report has named Austin, Texas, the best place to live in America.
The publication ranked the country's 100 largest metropolitan areas based on affordability, job prospects and quality of life. Austin bumped Denver from the top spot it held last year to No. 2.
Rounding out the top five are San Jose, California (up from No. 10), Washington, D.C. (up from No. 8), and Fayetteville, Arkansas.
Austin earned an overall score of 7.8 out of 10. The ranking was the culmination of scores in desirability, value, job market, quality of life and net migration. According to U.S. News:
The Desirability Index measures whether or not people want to live in a given metro area. Austin's score: 8.4
The Value Index measures how comfortably the average resident of each metro area can afford to live within his or her means. Austin's score: 7.3
The Job Market Index measures the strength of each metro area's job market. Austin's score: 7.5
The Quality of Life Index measures how satisfied residents are with their daily lives in each ranked metro area. Austin's score: 7.3
Net Migration measures whether people are moving to or away from each of the metro areas. Austin's score: 9.8
Austin Mayor Steve Adler touted the ranking in a statement Tuesday, saying, "We celebrate what we're doing right to be ranked first, recognizing it also highlights the accompanying affordability, equity and mobility challenges that our city faces.
"Inherent in that ranking is the strength to manage growth so we can preserve Austin's special spirit," Adler said.
The 2017 Best Places to Live list was put together after thousands of Americans were surveyed to find out what they value in a hometown. The methodology also factored in demographic data from the U.S. Census Bureau, crime stats from the FBI, and information from the Bureau of Labor Statistics, as well as previous U.S. News rankings of the high schools and hospitals.
"The metro areas that do well are the ones with strong job markets and high quality of life," said Kim Castro, executive editor at U.S. News, in a statement.
Here are the top 10 cities:
Austin
Denver
San Jose, California
Washington, D.C.
Fayetteville, Arkansas
Seattle
Raleigh-Durham, North Carolina
Boston
Des Moines, Iowa
Salt Lake City
Austin takes No. 8 on 'Best Cities' list
Austin Business Journal
Date: Thursday, September 27, 2012, 2:05pm CDT
Austin has earned a spot on Bloomberg BusinessWeek's "America's 50 Best Cities" list, ranking high at No. 8.
The ranking evaluated 100 of the country's largest cities, looking factors including the number of restaurants, libraries, museums, sports teams and park acreage, as well as educational facilities, economic factors, crime and air quality.
BusinessWeek notes University of Texas' football team, Round Rock-based Dell Inc. (Nasdaq: DELL), South By Southwest and the Austin City Limits music festival among highlights.
Other Texas cities to make the list include Houston, No. 22; San Antonio, No. 30; and Dallas, No. 41.
San Francisco took the No. 1 spot on the list.
Jan. 7, 2011
Austin, Texas Leads the Nation in Job Growth
Secret to Austin's Success: Entire Community Committed to Job Creation
By Anthony Mason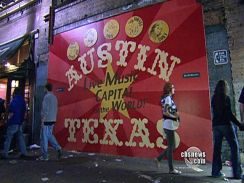 Anthony Mason takes a closer look into why Austin, Texas is leading the nation in job growth.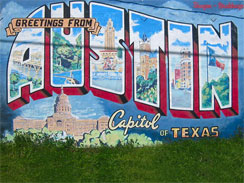 (mrflip/flickr)
(CBS) The Brookings Institution just looked at how well cities had emerged from the recession. The rankings are based largely on job creating and housing.

Five of the top 10 are in Texas, with the state capital Austin leading the list. CBS News senior business correspondent Anthony Mason reports.

Every time the Austin, Texas company "Bazaarvoice" adds a new employee they bang a gong.

The gong rang 240 times last year at Bazaarvoice. The 5-year-old company hosts and analyzes website customer feedback for clients like Best Buy and Macy's.

Kelly Grey was the latest hire this week, after moving to Austin from Connecticut with her husband and two kids.

"The economy is doing better here," Grey said. It took Grey just a month to find a job as a client manager.

According to a recent survey,Austin weathered the recession better than any other place in the country, and now leads the nation in job growth.

Welcome to Jobstown, USA

Projects like Samsung's $3 billion expansion of its Austin plant have added hundreds of jobs. Austin's unemployment rate (7.1 percent) is more than two full points below the rest of the country.

Bazaarvoice CEO Brett Hurt thinks Austin's doing something different.

"There's an amazing creative energy here," said Hurt.

Thousands of talented graduates pour out of the University of Texas every year. The state has no income tax, and Austin has low taxes and house prices and a rich cultural scene.

Dave Porter's job at the Chamber of Commerce is to entice companies from more expensive states like California.

"We are very aggressively recruiting," he said. California has a "bulls eye right on it."

California-based SunPower is not leaving the state, but the solar company is opening an operations center in Austin after the city offered up to $900,000 in hiring incentives. SunPower plans 450 hires.

About 80 percent of jobs created in Austin come from local companies. At the Austin Technology Incubator at the University of Texas, Isaac Barchas gives very young companies office space and helps them find funding.

For Austin, nurturing new companies is paying off in jobs.

"It's really like taking shots on goal," Barchas said. "You want to have as many shots as you can, because you never know which ones going to put the ball in the back of the net.

"When you score the benefit is huge," Mason said.

"When you score the benefit can be another Dell or another Google or another Intel."

Austin's entrepreneurs say there's no secret to their success. It's just an entire community committed to job creation.
Daily Real Estate News | September 14, 2010 |
10 Markets Most Likely to Appreciate
Forbes magazine turned to real estate research firm Local Market Monitor to figure out which markets have the greatest likelihood of price appreciation because they offer a mix of jobs weighted toward growth industries.

These are the top markets, the research company concludes:

1. Raleigh-Cary, N.C.
2. McAllen-Edinburg-Mission, Texas
3. Austin-Round Rock, Texas
4. Nashville-Davidson-Murfreesboro-Franklin, Tenn.
5. San Antonio, Texas
6. Colorado Springs, Colo.
7. Albuquerque, N.M.
8. Denver-Aurora-Broomfield, Colo.
9. Springfield, Mo.
10. Indianapolis-Carmel, Ind.

Source: Forbes, Francesca Levy (09/13/2010)

Why Austin?
6.9% Unemployment (Jan. 2010) Lowest rate in Texas
#1 Ranking on Milken Institutes Best Performing Cities Index for 2009
#2 Strongest Metro Economy (Business Week 10/09)
#11 Best Places to Raise a Family (Childrens Health 10/09)
One of 79 Metros Where Recession has Ended (Moodys Economy & MSNBC 10/09)
Austin Chamber of Commerce Market Update

• In the past ten years, Austin's population has increased by 487,000.
• 1,000 persons per week are moving into Austin MSA
• By the year 2030, Austin's MSA population is predicted to be 3.5 million
• Williamson county has increased by 53% since 2004.
• Williamson county population is expected to be 1 mil by 2030
• 20% of jobs in Austin require a Bachelor Degree
• 42% of workers have a Bachelor Degree creating approx. 80K workers are underemployed
• Professional/Business Services have added the most jobs in the last 12 months
• Since 2000 Austin MSA has experienced approx 14% decline in Hi Tech jobs
• Hi Tech compensation has declined 7% since 2000. Private sector wages have increased 6%
• There are approx 3000 Hi Tech companies within the Austin MSA which comprise 33%
of total payroll
• The average income for Hi Tech workers is $80K
• Residential building permits peaked in 2005
• Austin had an average of 4 months inventory of residential properties available for purchase
in 2007. In 2008, this number has increased to 4.7 months. The nationwide average is 6
months, so Austin is below the average in respect to residential inventory.
• Austin is one of the nation's biggest targets in Venture Capital.
• Austin's MSA population is less than 7% of Texas' population, but holds 48% of Venture
Capital funding in Texas.
• 129 companies relocated to Austin since 2004
• 34 companies relocated to Austin from other cities within Texas. California follows in second
with 29 companies relocating to Austin, and 17 companies have relocated internationally to
Austin.
• The Chamber's plan is to bring 72K jobs to Austin within the next five years
• And last, but not least………By the time you drive home this evening, there will be 84 more
vehicles on the roads than there were whenever you went to work.

Copyright © 2011 Betsy Gallagher. All rights reserved.